Canadian Hospitals: Emergency Department Software
Enhanced for the Canadian experience, PulseCheck's clinical and administrative workflows accommodate eCTAS, PIA times, and provincial health care compliance.
Powering Performance in canadian emergency departments
PulseCheck is a high-performance complete EDIS solution that helps Canadian hospitals meet the needs of their busy Emerg. Departments.
Standard PulseCheck EDIS Features
All Canadian-specific features have been developed from a commitment to meet the requirements of our customers in Canada. These features are a direct result of customer input on our Product.
Simplified patient tracking, triage and eCTAS
Currently partnered with early adopters of the eCTAS initiative, PulseCheck will support the application complex workflow. Efficiently managing patients throughout their stay in Emerg., ED PulseCheck's fully integrated tracking board provides key patient information, such as CEDIS complaint, CTAS score, length of stay, OHIP billing status, infectious disease, and more. PIA times are seamlessly captured and reported, and can be automated via integration to RTLS (Real-Time Location System) products.
The ED is a fast-paced, high-risk environment. You need a mobile EMR that can keep up. Departments using PulseCheck can significantly optimize tracking and triage, discharge, and reporting processes.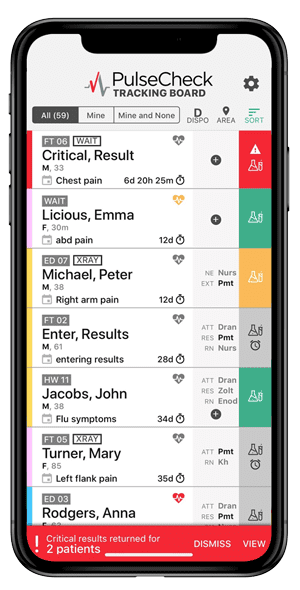 Stay up to date with PulseCheck

Canadian articles, case studies, and other industry-related content:
Dr. Gary Mann, Program Chief Emeritus, Ajax and Pickering General Hospital, Toronto, Ontario, Canada
Experience better workflow, increased efficiency and improved connections to your patients and staff with a Canadian specific EDIS