Better Workflow & Efficiency for Your Business or Practice
Improve Patient Experience and Satisfaction with Emergency Department & Urgent Care Solutions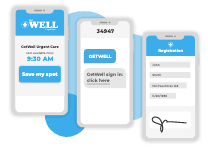 Create a better patient experience by offering easy and convenient online scheduling, queuing, intake, and referral options for your ED, Urgent Care, or Animal Hospital. Our Virtual Waiting Room platform lets patients schedule appointments, complete forms, and secure their place in line, enabling staff access to intake information right when needed.
Emergency Department Solution
Manage patient flow, regulation, risk, documentation, and detailed billing with solutions that work the way you do. We have designed our solutions to meet the specific needs of Emergency Department providers. Enhance overall user experience, ease EMR burnout and increase both patient and provider satisfaction.
You don't save files on floppy disks anymore. So why would you use time-consuming paper charts and computer stations to record patient data, especially when those methods could lead to worse patient outcomes? Not having easily accessible, legible documentation can lead to deaths — and lawsuits. You deserve a modern, mobile solution.
Enhance Your Workflow and Efficiency for a Better Patient Experience