EDIS FOR FREESTANDING EMERGENCY DEPARTMENTS
Better Workflow, Increased Efficiency And Improved Staff Satisfaction At An Affordable Price.
Is your Freestanding Emergency Department (FSED) too small for big Health Information Systems (HIS)? PulseCheck has established itself as a leader in providing efficient and comprehensive Electronic Health Record (EHR) solutions. With a patented EDIS, PulseCheck services are affordable and designed specifically for Emergency Department environments.
Mobile and Tablet
Functionality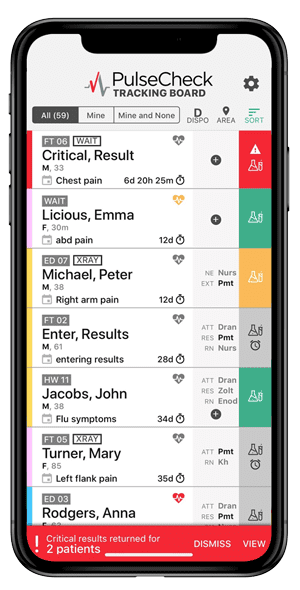 Boarding patients in your ED? Need to give repeating meds and other non-ED medication schedules?
Electronic Medication Administration Record (eMAR) from PulseCheck is a medication administration system that guarantees real-time medication ordering and distribution accuracy. Take care of your freestanding ED with a best of breed ED system with an integrated eMAR that takes care of all your ED and long-stay patient needs with scheduled and repeating orders.
Ability to set repeating and scheduled medication orders and provide for pharmacy review
A unique Department MAR lets you see the medication order statuses for all patients on one screen
Reduces medication errors from point of documentation to administration
Provides more accurate medication records and patient history
Alerts guarantee that medication dosage is not missed, notifies nurses when medicine is due
Allergy and drug-to-drug interaction checking
Records medication notes and makes them available at any time, if needed
Administrative reports are generated quickly to meet regulatory requirements
Built-in linkage to our Injection and Infusions calculator, so you get properly reimbursed for all IV charges
We understand the challenges involved with patient care, risk, workflow, and billing in a Freestanding ED environment.
That's why our solution was designed by and for emergency department caregivers.
The ED is a fast-paced, high-risk environment. You need a mobile EMR that can keep up.
Experience a better workflow, increased efficiency and improved staff satisfaction with a Freestanding EDIS Solution